When Alanah Astehtsi Otsistohkwa (Morningstar) Jewell (BA '19) first came to Laurier in 2015, her goal was to become a lawyer. However, her journey at university brought her to a new path.
"When I moved here to Laurier that was the beginning of my identity into place," says Jewell. "Before I lived in Waterloo, I didn't have access to any culture or teaching or ceremony. I always knew I was Indigenous and had those connections to the reserve and my family.
"The first day I was here I went to the Indigenous Student Centre and they welcomed me and made me feel like I belonged. I worked there from second year until graduation."
As Jewell approached graduation from Laurier's Sociology program in 2019 and started preparing for her LSAT exam, she realized that law school may not be right for her. She began to pursue art as a hobby. That's when Ann Marie Beals (MA '18), an assistant professor of Psychology, approached Jewell about creating a mural about her creation story for the Centre for Community Research, Learning and Action (CCRLA) with the support of the Graduate Students' Association and Laurier Students' Public Interest Research Group.
The result was "Turtle Island Creation Story," a mural recently unveiled after a three-year delay due to the COVID-19 pandemic that is open to view at the Community Hub on the second floor of Laurier's building at 232 King St. in Waterloo.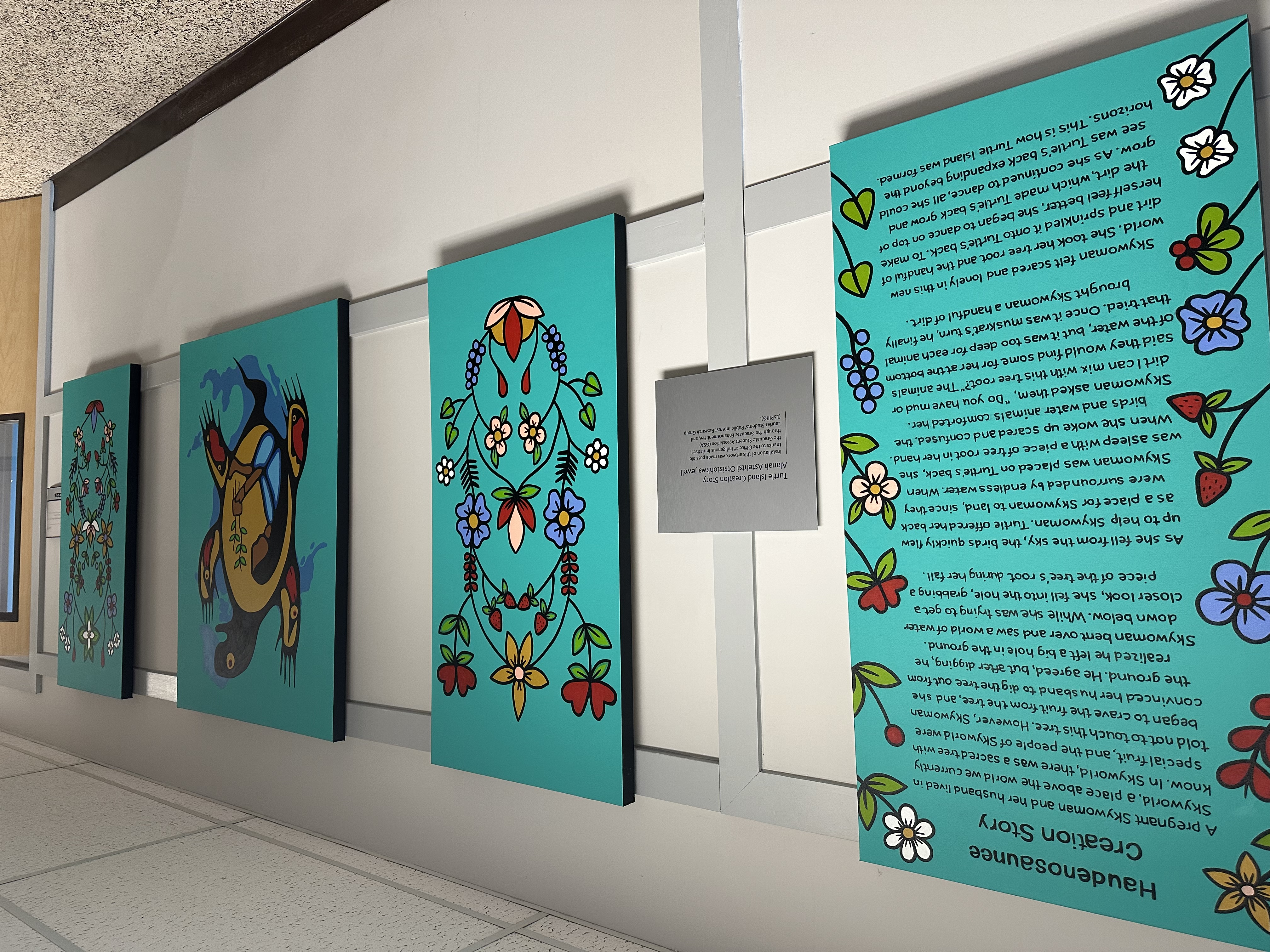 While Jewell admits it was challenging to depict her creation story visually, especially as a new artist establishing her own style, she found inspiration in the words of the story noting, "It was clear there was a beautiful sky woman and she forms Turtle Island. I needed to channel those two things and create a representative centerpiece. So the mural includes a woman in a turtle and she's holding a plant."
Jewell's exploration of symmetry in Turtle Island Creation Story has become a characteristic of her artistic style.
Laurier is proud to be a part of Jewell's artistic journey and honoured to display Jewell's first public art piece within our community as part of an Indigenous place-making initiative led by Laurier's Office of Indigenous Initiatives.
Learn more about Jewell and her art by visiting her website at www.morningstardesigns.ca.